One of the biggest ripoffs is the markup on prescription eyeglasses. Many glasses-wearers take for granted that glasses must be ordered by their optometrist's office. For that reason, many believe that a new pair of glasses costs hundreds of dollars and that's just how it is. In actuality, that's not true. Retail vision centers are acquiring your glasses for a fraction of the price they charge you and pocketing the difference. Here's how you can save a lot of money on your next pair by ordering your glasses online.
Break Free of the Retail Vision Center
The only thing you need from your local optometrist is your prescription. You just need to walk out of the office with your printed prescription in hand. You may want to avoid vision centers that push you toward ordering glasses before you leave, because you won't be doing so. For that reason, you may want to consider your local Walmart eye doctor, where the optometrist offices are independently operated and financially separate from the Walmart Vision Center sales rooms.
Note that sometimes prescriptions do not include a piece of information you will need to order glasses - pupillary distance (PD). This number is the distance, in millimeters, between your pupils when looking straight forward. Sometimes vision centers will intentionally leave this measurement off your printed prescription in order to "force" you to have an optician/salesperson take the measurement for you as they help you select new frames. This is a sleazy sales tactic and a reason to stay away from national vision center chains. Fortunately, pupillary distance is easy to measure with a ruler when looking in a mirror. Read more: https://www.zennioptical.com/measuring-pd-infographic
Use Your Prescription to Order Your Glasses Online
If you do some searching online, you will find that there are several websites where you can order eyeglasses directly once you have your prescription. The store I have personally used for years and can endorse is EyeBuyDirect. The website has a wide range of stylish frames for both men and women, many for as low as only $9! If you're worried about selecting a style without trying them on, you can use the site's useful tool that lets you upload your head shot and overlay a pair of glasses you're considering to see how they look.
Once you select a pair, you'll have to enter your prescription's specifications. You can create an account and save prescriptions for later, in case you need to order another pair with the same prescription in the future.
During the checkout process, you choose options for your lenses, such as scratch resistance and anti-glare coating. When I ordered my first pair of glasses at a vision center, they charged $160 for anti-glare coating. Only later did I learn how much I overpaid. With EyeBuyDirect, I always order my lenses with scratch resistance, anti-glare, UV protection, and digital screen protection. Digital screen protection is a lens coating that blocks the harsh blue light emitted from screens that causes eye fatigue, which is great for those of us that spend our days working on computers. These options would cost hundreds of dollars if you got upsold at a retail eye center. But on EyeBuyDirect, when I choose $9 frames, even with all these options, my total always comes to only around $30. When I tell people that, they find it unbelievable, but it's true. See for yourself: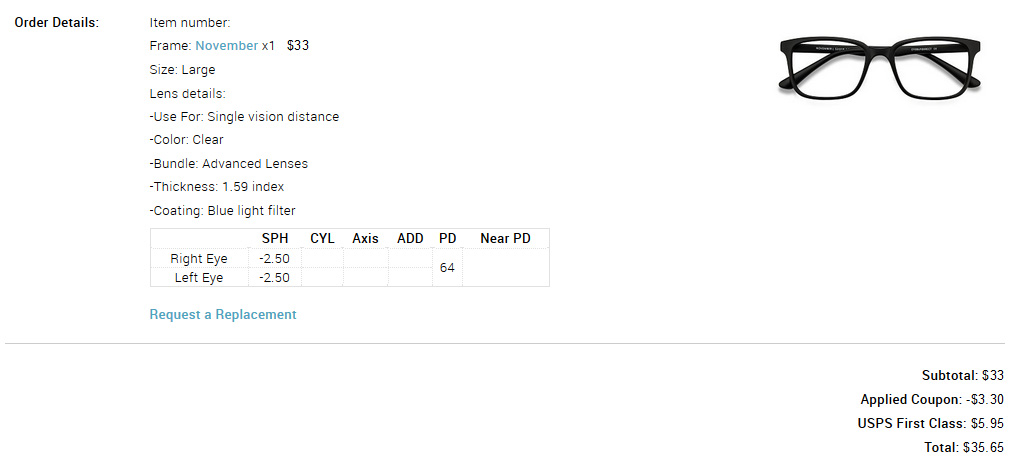 Note that your checkout price will vary based on the frames you select, the lens options you choose, and promotions that are available at the time. Always remember to check for coupon codes to see if any discounts apply to your order: https://www.eyebuydirect.com/discount-coupons
Also note that tinting is available as a lens option during checkout, so you can order prescription sunglasses!
As an additional bonus, your glasses get mailed right to your door in about two weeks. You don't have to wait for a call from your doctor's office and arrange to go pick them up during their business hours.
The sad truth is that typical retail eye centers are ordering your glasses from facilities much like EyeBuyDirect, waiting for them to arrive in the mail, and overcharging you a huge upsell and pocketing hundreds of your hard-earned dollars as pure profit, not adding any value to your pair of glasses whatsoever. They don't want you to know you can place the order yourself with the producer and cut them, the middle men, out of the equation. Online eyeglasses stores like EyeBuyDirect make that possible!
https://cheapsimpleliving.com/post/cheap-prescription-glasses-online
You don't need to order your glasses through your optometrist anymore. Save hundreds of dollars by ordering your prescription glasses online!
Cheap Simple Living