We love shopping at Harbor Freight because of the coupons. Who doesn't love the thrill of getting a useful free tool just for buying something small like a 99-cent pair of scissors or flashlight?
The coupons we usually had were those we got from ValPaks. These slips typically had 4 coupons – 3 different "Free with Any Purchase" coupons and one 20% off any regularly priced item "Super Coupon."

We were always interested in getting one of the free items, like a pack of batteries or screwdriver set, and would just buy something cheap in order to get it. Since the fine print on the coupons had verbiage like "Limit 1 coupon per customer per day" and "Cannot be used with other discounts," we figured you could only use one coupon per transaction and we didn't ever count on being able to use the 20% off coupon.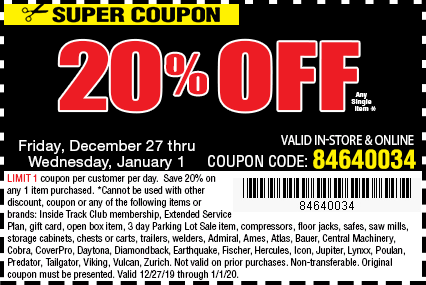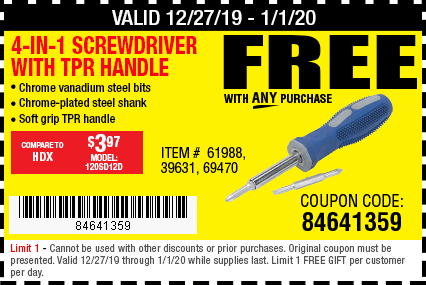 However, when we would lay the coupon strip on the counter, the cashier would always scan both the free item coupon and the 20% off coupon. At first, we thought the cashiers were just being nice. But we eventually realized over time that the cashiers at every Harbor Freight store we visited did the same thing.
We decided to try and figure out what Harbor Freight's coupon policy actually is on this issue. We found these discussions on Reddit that discuss the matter. Apparently, it's entirely allowed to use both a Super Coupon discount and get a free item:
https://www.reddit.com/r/harborfreight/comments/8jjxn8/combine_discount_and_free_item_coupons/
https://www.reddit.com/r/harborfreight/comments/4tiha4/limit_on_free_coupons/
The limits in the fine print seem to be intended to prohibit stacking multiple coupons on the same item. For example, it would not be permissible to try to combine a coupon that discounts the price of a particular item and also use the 20% off coupon on that same item. For example, you could not use the 20% off coupon on top of this coupon below that already marks down this chainsaw from $47.99 to $39.99.
But nothing says you can't use different coupons on different items. If, for example, you wanted to buy the chainsaw, this pressure washer, and this air compressor, nothing says you can't use all three sale coupons – one coupon per item.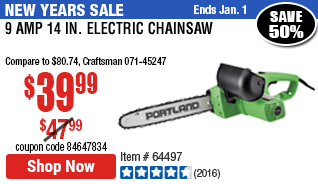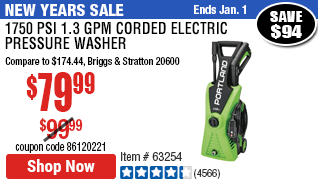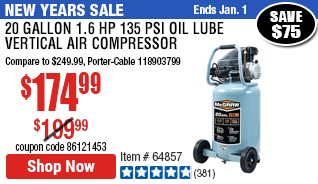 And regarding our question, it is permissible to use both the 20% off coupon and a free item coupon at the same time even if you purchase just one item. Think of it this way - while the 20% off coupon applies to a specific item, the "Free with Any Purchase" coupon is made possible by your overall purchase/transaction, or the fact that you bought anything at all. However, the free item coupons do explicitly state, "Limit 1 FREE GIFT per customer per day," so you can only get one free item at a time!
To find out for sure, we tried using the two coupons featured in this post's cover photo - the 20% off super coupon and the free LED portable work light coupon. As you can see in the receipt below, we bought the cheapest item in the store, got 20% off its price, and got our free flashlight!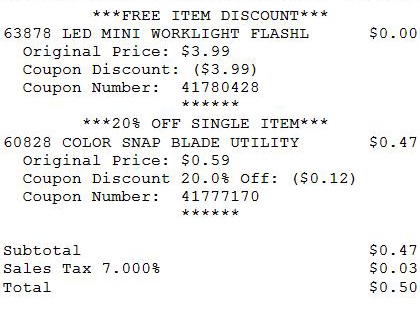 If you plan to visit Harbor Freight to get your free items, remember those 20% or 25% off Super Coupons and save yourself those extra dollars or cents!
https://cheapsimpleliving.com/post/harbor-freight-multiple-coupons
Can you use both a 20% off discount Super Coupon and a Free with Any Purchase coupon at the same time at Harbor Freight? Our team does some investigating.
Cheap Simple Living