We've all heard, "There's no such thing as a free lunch." And that's true.
Sometimes, though, things come pretty close.
If you're like us, you comb through your mail for coupons. Coupons for places you go on a regular basis are as good as money. One coupon to start collecting, if you don't already, is the one from Harbor Freight.
For those who aren't familiar, Harbor Freight is a discount hardware and tool store with over 900 locations across the United States. By selling many products under their private labels, they can offer prices far below those of the big home improvement stores. In fact, they usually list the price of the higher-priced competitor next to their prices, to make sure you know how good a deal you're getting.
The best deal, of course, is getting something for free, and Harbor Freight knows it. So at the top of every coupon set they mail out are some items they will give you for FREE, with any purchase.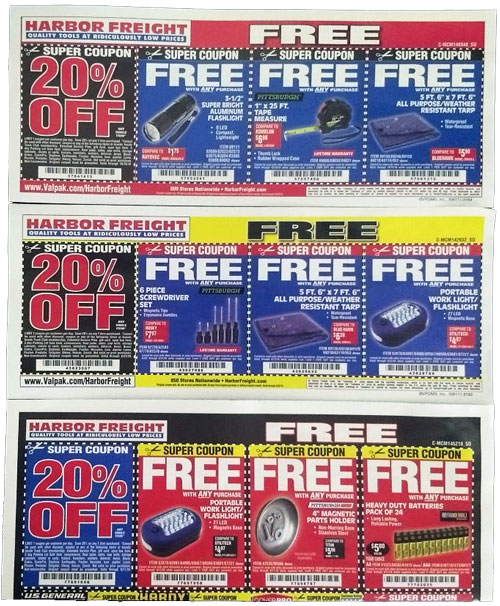 Note that these coupons do NOT say, "Free with the purchase of an item of equal or greater value." No, they say, "Free with ANY purchase." That means you can get your free item of choice just for buying a 99-cent pair of scissors, or a $1.99 LED flashlight, or anything else you probably need anyways.
Some of the items they offer for free are pretty useful, too. Screwdriver sets, tape measures, heavy duty batteries… these are often things that would cost you upwards of 5 bucks if you bought them somewhere else, and here, they're FREE. Usually, they're also things we could use an extra one of anyways, to keep in the car, kitchen, or wherever. At the time of this writing, they're even offering a free electric flyswatter! How fun!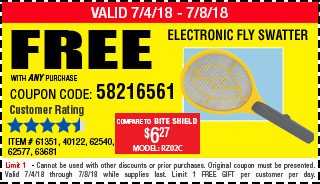 So keep an eye out for those Harbor Freight coupons, and keep them in your car for the next time you pass by a Harbor Freight store. If you're driving down I-95, you can stop in the store next to their distribution center right by the highway, near Dillon, SC, which happens to be one of the largest commercial buildings in the United States.

Plus, if you need a big piece of equipment, those 20%-25% off coupons come in handy too! If you don't already get Harbor Freight coupons in the mail, you can subscribe to their catalog at HarborFreight.com.
https://cheapsimpleliving.com/post/free-stuff-harbor-freight
It's hard to beat free! Check out the great stuff you can get for free with any purchase at Harbor Freight Tools.
Cheap Simple Living