We recently set out to find the cheapest item you could buy in Harbor Freight in order to use a coupon for a free gift. We found that item to be the 59-cent Color Snap Blade Utility Knife. We love using those "Free with Any Purchase" coupons, especially when we can walk out of the store with two items for less than a dollar!
Soon after we wrote that piece, we were flipping through our monthly Harbor Freight coupon catalog and we came across a beautiful little coupon on the last page…
Color Snap Blade Utility Knife… only 25 cents!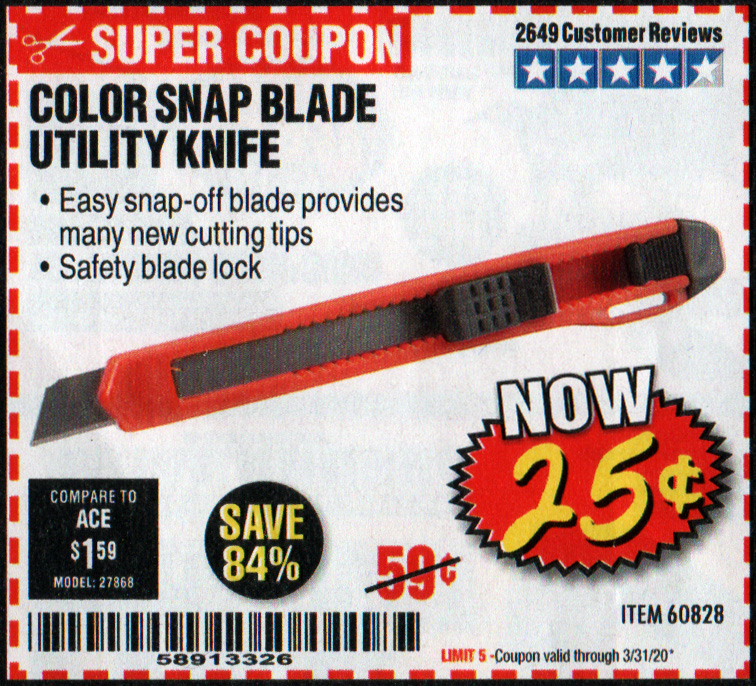 We immediately wondered — can you really buy something for just 25 cents at Harbor Freight and still get a free item?
We went down to our local Harbor Freight to try it out. And sure enough, we were able to use the 25-cent coupon and a "Free with Any Purchase" coupon at the same time! For just 25 cents (plus 2 cents for sales tax), we walked out of the store with our box cutter and a free LED work light!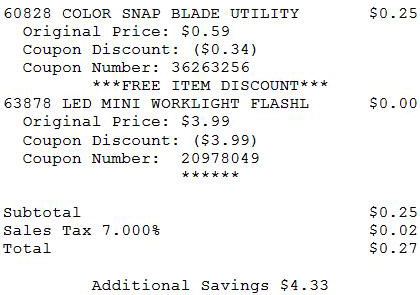 Two items for 27 cents – that's hard to beat! Check out Harbor Freight's coupons and keep an eye out for the next time that 25-cent box cutter coupon comes around!
https://cheapsimpleliving.com/post/25-cents-harbor-freight
Love saving money at Harbor Freight? Using this coupon, you can leave Harbor Freight with your free item for only 25 cents! That's two useful tools for only a quarter!
Cheap Simple Living