If you've never had freshly squeezed orange juice, you're missing out. The typical processed, concentrated, pasteurized juice from the supermarket that we're used to just doesn't compare. Pasteurization helps juice last longer, but many believe that the high-heat process robs the juice of much of its flavor and nutrients. Once you get a taste of freshly squeezed orange juice, you'll most likely agree.
The main problem is, who has the time or energy to juice their own oranges? If you've ever squeezed the juice out of any citrus fruits by hand, you'll know it's no easy task. There are of course juicers that could do the job for you, but they don't come cheap. That doesn't even mention the cost of fresh oranges themselves. At roughly $1.50/lb, you'd have to shell out quite a bit of cash at the supermarket to buy enough fresh oranges to make a pitcher of juice at home.
The good news is, you don't have to! If you're a member of Sam's Club, that is.
Many Sam's Club stores across the country now offer a new perk for its members – freshly squeezed orange juice! Sam's Club employees juice the oranges and bottle and seal the juice right there in the store – in fact, usually right in the middle of the produce section! If you time your shopping trip just right, you can watch them make it!
No pasteurization, no long-term refrigeration, no long trip on the back of a truck to make it to the store – just fresh juice from fresh oranges made right there in your local store, for just about $8 for a 59 oz. bottle (roughly a half-gallon).
If you happen to visit the store while they're making the juice, they keep the new bottles sitting on ice right next to the juicing machine. Otherwise, you'll likely find bottles of freshly squeezed orange juice in the refrigerated produce section. (Not over in the freezer section next to the Tropicana!)
Note that freshly squeezed orange juice doesn't last nearly as long in the refrigerator as typical pasteurized orange juice. Fresh juice will last about a week. But it tastes so good, you won't have a problem finishing it in time! And remember to give it a good shake before you pour it!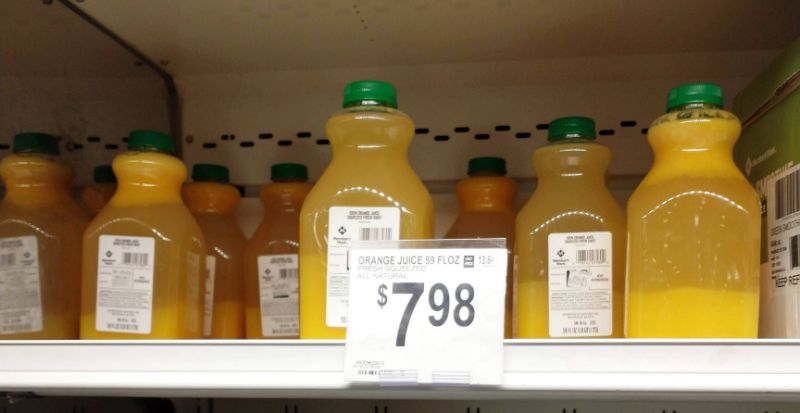 It's always a good idea to keep your immune system in top condition by getting lots of vitamin C. What better way to get your daily dose than from the juice of fresh, living oranges? Next time you're at Sam's Club, pick up one of these plainly marked bottles of orange juice. Your taste buds will thank you!
https://cheapsimpleliving.com/post/freshly-squeezed-orange-juice-sams-club
Do you love the taste of freshly squeezed orange juice? Check out your local Sam's Club for juice squeezed and bottled right there in the store!
Cheap Simple Living