By now, we hope you've had a chance to try out the new Scan & Go mobile app feature when you check out at Sam's Club. It brings a great sense of relief when you see those huge checkout lines as you walk in the door to know that you won't have to spend any time waiting in those lines whatsoever. All you have to do is scan your items using the Sam's Club mobile app, either as you gather them or all at once when you're done shopping, pay using a credit card within the app, and show the QR code on the confirmation screen to the associate who scans your receipt at the exit. It's a free service available to all Sam's Club members that can save you a lot of time and headache during your big shopping trips.
But the benefits of using Scan & Go just got even sweeter. Not only does the feature save you time, but now, it can also save you money! 🤑
Sam's Club recently started running sales that are available exclusively to members checking out with Scan & Go. To see what's on sale in your club, just Google "Sam's Club Scan & Go Offers" or click on the "Get these Scan & Go offers in club!" banner on the Sam's Club website, and you'll find a special results page listing all the products that currently have a "Scan & Go Savings" offer running.
But if you're not in the habit of checking for sales online, Scan & Go specials are easy to find in-store. The price labels for products on sale will have big, bold SCAN & GO SAVINGS banners on top, with the Scan & Go special price listed just as large and side-by-side with the regular price, as shown below on some grapes that have a Scan & Go discount this month.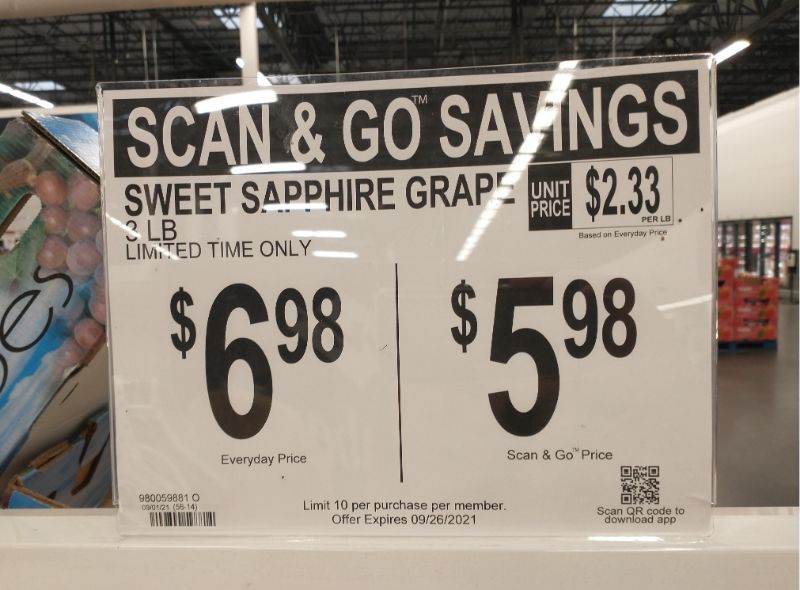 So why is Sam's Club offering special discounts to users of their awesome, free Scan & Go feature? Perhaps they know their checkout lines are still pretty long and they want to encourage even more shoppers to try Scan & Go. After all, checking out using your smartphone is a totally new way of shopping from what most customers are used to. As commonplace as self-checkout lanes are nowadays, we should remember that there was a lot of hesitancy among shoppers to try it because not paying a cashier for your purchase seemed entirely foreign at first. Sam's Club probably knows that once you try Scan & Go, even if it takes a few sales to entice you, you're likely to be hooked for good!
If you've never used Scan & Go but want to get in on these great special offers, get started by checkout out our Scan & Go user guide!
https://cheapsimpleliving.com/post/sams-club-scan-and-go-special-offers
Do you love skipping the checkout line at Sam's Club by using Scan & Go? Get ready to love it even more, because you can now get discounts for using Scan & Go!
Cheap Simple Living