Have you ever seen one of those old fashioned scales in a Publix supermarket and felt like you'd stepped back in time? Why do all these new stores have antique lollipop model scales that look like they're from 100 years ago?
Publix's scales are part of a long tradition that goes back to the second ever Publix store in Winter Haven, Florida. In the 1930s when George Jenkins opened the first Publix supermarkets, most people did not have personal scales at home. Instead, they usually had to pay a small fee to use a scale at a supermarket or other shop.
Mr. Jenkins had a different philosophy. He wanted to treat his customers like royalty and do things differently from other grocery stores. So he put scales inside his stores and made them completely free. As many as 5 million shoppers used Publix's free scales during its first year of business.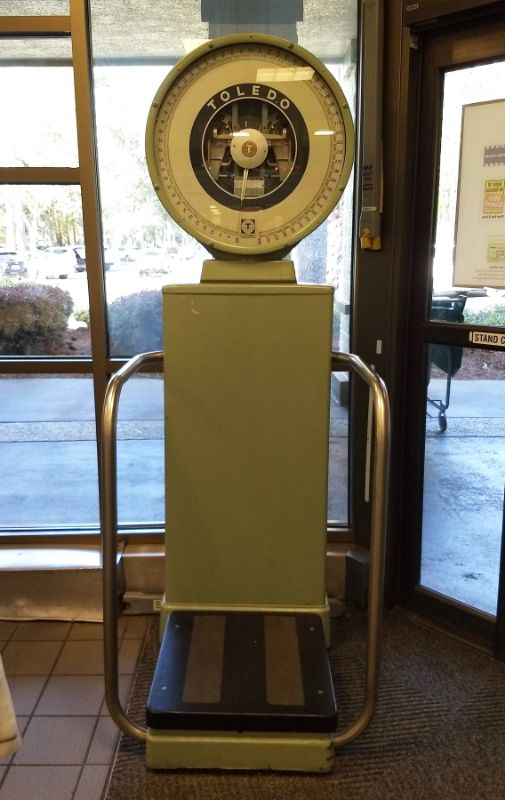 Jenkins believed that if he made his scales free to use in his stores, folks would walk in the doors and feel Publix's cool air conditioning (which was also novel at the time), smell some fresh donuts, and stick around for a while.
Nowadays, personal scales are more common, but Publix's bright green scales remain a unique attraction and an iconic symbol of Publix's commitment to customer service. Besides, it's still fun to hop on an old-fashioned Publix scale and guess where the red and white dial will stop. And because of their large size, many find them useful for weighing luggage before a flight.
The Swiss company that used to make Publix's scales, Mettler Toledo, has since stopped making them, but Publix has a special team in place to repair and refurbish the ones they have. So it's rare to find scales in stores outside Publix's core market in Florida. But next time you're vacationing on Florida's sunny shores and visit a Publix, you can step on the bright green scale and feel like a real Floridian!
https://cheapsimpleliving.com/post/publix-scales
Have you ever wondered why some Publix stores have old fashioned scales? The history behind the Publix scales goes back to the very first Publix stores.
Cheap Simple Living