Coupons for things you need to buy anyways are as good as money. And while the idea of clipping grocery coupons out of the newspaper has gone the way of, well, the newspaper, it's still nice to get those coupons in our mailbox and email inbox.
Not all coupons are created equal, though. Most of the time, we get coupons for stores that don't boast bottom-dollar prices, like departments stores and home good stores. Do you hold on to those 20% off coupons from Bed Bath & Beyond? While it does feel good to redeem that coupon on a kitchen appliance or set of sheets you needed anyways, make sure you check prices at competitors to make sure you're getting the best deal, even with the coupon. 20% off sticker price may not be the best deal out there. There's a reason you never receive coupons from Walmart or Dollar Tree.
But if you think a 20% off coupon is good, how about a "20% off" coupon every week at a store that already offers bargain prices?
Every Saturday, Dollar General offers $5 off $25 with a coupon you can find on their website and printed on the bottom of receipts you get during the week.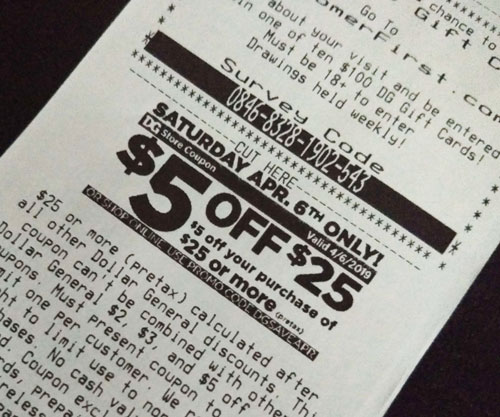 Note that even without this particular coupon, Dollar General has great prices on everything from groceries to cleaning products. Doing a lot of your shopping there can help save you money and skip the checkout delay of bigger stores.
This special coupon makes DG even better. If you can wait until Saturday to stock up on $25 worth of necessities, you get to keep 5 bucks in your pocket. Or put another way, you get 5 bucks worth of items you need, totally free. Over time, week after week, those fivers add up.
And there's no reason you can't combine this offer with other coupons. If you have other manufacturers' coupons or coupons from the DG website, there's no rule against using them in combination with this offer. All you have to do is hit that $25 pre-tax total. And with DG's regular weekly sales, you're bound to walk away with the feeling that you got a great deal.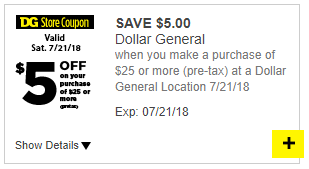 So grab the coupon from DollarGeneral.com, and start saving this Saturday.
https://cheapsimpleliving.com/post/save-every-week-dollar-general
Looking to save some extra cash on life's everyday essentials? Dollar General offers $5 off $25 coupons every Saturday!
Cheap Simple Living