Dollar General has been expanding rapidly across the United States over the past few years. The chain recently announced that they will be adding 975 new stores this year and remodeling another 1,000 - impressive growth for a company that already boasts 15,000 stores across America.
While you can find Dollar General stores just about anywhere, the chain caters largely to rural and suburban customers that are often 20 or more miles away from a grocery store or big box retailer. Indeed, there are many small towns and communities across the fruited plain in which Dollar General is the only national chain store for miles and they help make rural life in those areas possible. So it's great news that it is in those underserved areas that DG plans to open most of its new stores in the near future.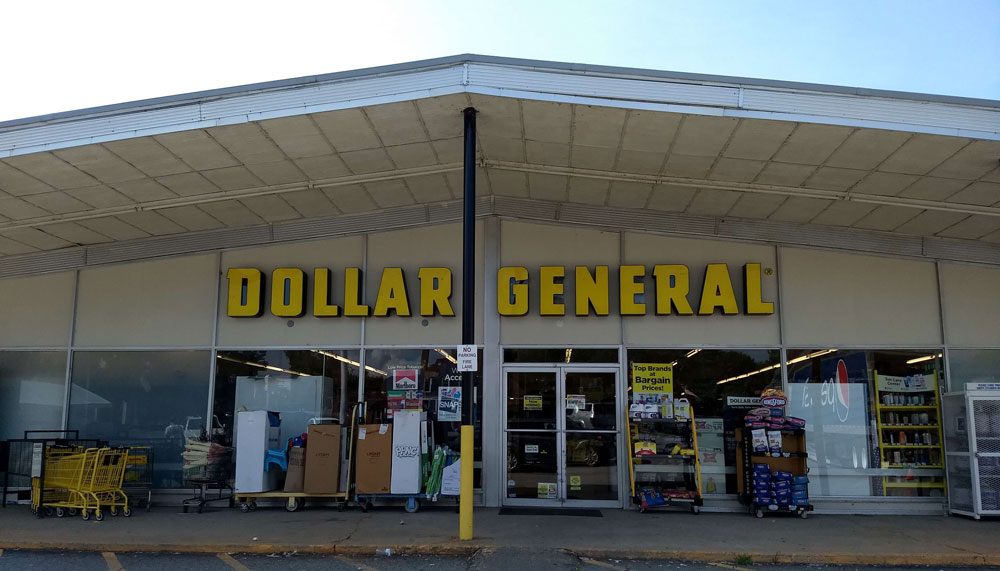 DG's mixture of low prices, time-saving convenience, and close proximity makes it one of our favorite stores. Whether you already love DG as much as we do or are about to get a new one in your community, here are some useful tips on how to stretch your dollar even further during your next Dollar General shopping trip.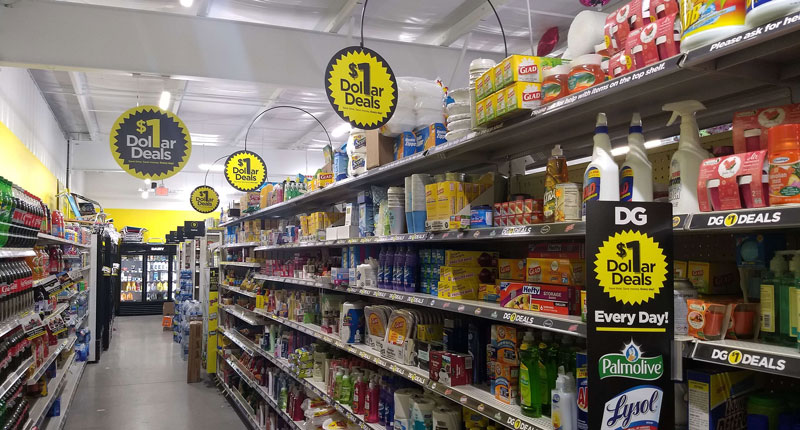 #1 - Dollar Deals Aisle
Dollar General originally started as a regular dollar store where everything cost $1. The founder, Cal Turner, Sr., started buying surplus goods in the era of the Great Depression and offered his array of finds at his stores across the Southeast for just $1 which helped draw in new customers. Customers went to Dollar General stores not knowing what they might find and would leave the store amazed by all they could get for just one dollar. (You can read more about the history of Dollar General in the book My Father's Business by Cal Turner, Jr., available online and near the checkout counter at many DG stores.)
Though the store has changed over the years, the spirit of Cal Turner's dollar deals lives on at Dollar General. Every store has a Dollar Deals aisle where everything costs $1 and where you can hunt for some special unique finds. Many of the brands and products you'll find on the Dollar Deals shelves you won't find in other parts of the store. The chain seems to still be acquiring bargains in wholesale buyouts and passing the value onto its customers, much like its founder once did. Check out the Dollar Deals aisle at your local store and see what neat deals you can find.
(Read more about Dollar General's Dollar Deals aisles here!)
#2 - Dollar General Market
While they are few and far between, Dollar General Market stores are full-service supermarkets and offer awesome deals on fresh fruits and vegetables. If you're lucky enough to have one in your area, you probably already know it's a great place to get deals on groceries at DG's rock bottom prices. Check out a weekly ad to see some of the great deals happening on a weekly basis.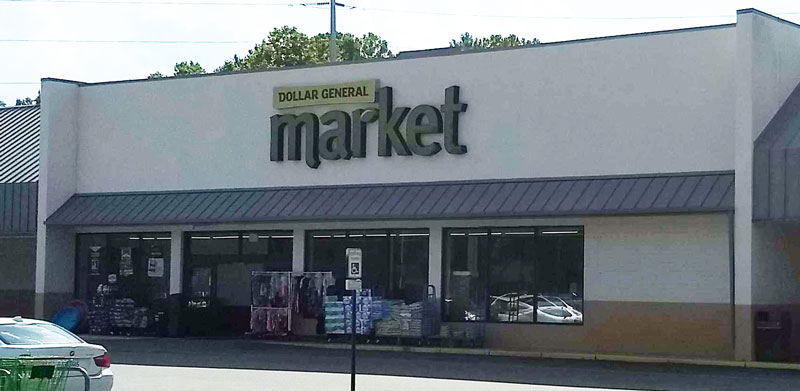 Dollar General has announced that part of their big expansion this year will be to introduce fresh produce and expanded refrigerator sections at hundreds of new stores, particularly in small towns not currently served by a full-service supermarket. Similar to Amazon's foray into the grocery industry by its acquisition of Whole Foods, Dollar General sees its future retail growth in the domain of fresh produce as it seeks to compete with Walmart Supercenters and the rapidly expanding Aldi and Lidl chains. We hope to see more Dollar General Market stores pop up in small towns across the USA in the near future.
So while you may not have a Dollar General Market near you just yet, one may be coming your way. In the meantime, be sure to stop in one to stock up during your next road trip.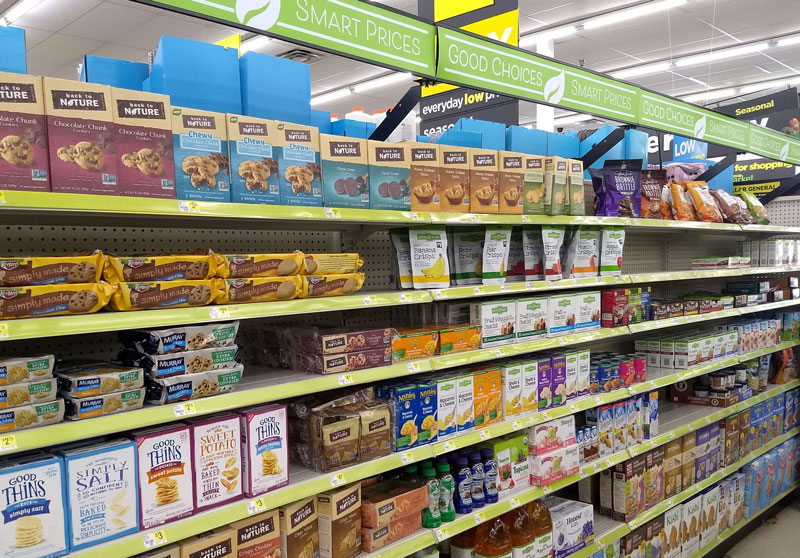 #3 - Health Food Bargains
Many of us would like to eat healthier but have a hard time finding healthy alternatives to our favorite foods or finding time to shop at specialty health food stores. If that sounds like you, you'll love Dollar General's new health food selections. Most stores have now set up new designated healthy food aisles offering products from popular natural brands such as Kashi, Annie's Homegrown, and Back to Nature, as well as Dollar General's new health food private label, Good & Smart.
Good & Smart products generally have simpler, healthier ingredients at a great affordable price like we expect from Dollar General. From dried fruits and nuts to more wholesome versions of Pop Tarts and Pringles, Good & Smart foods can help you enjoy the tasty foods you love but with more natural ingredients you can feel good about eating.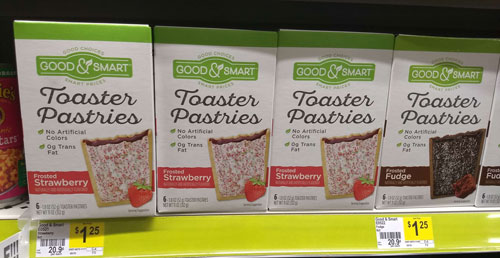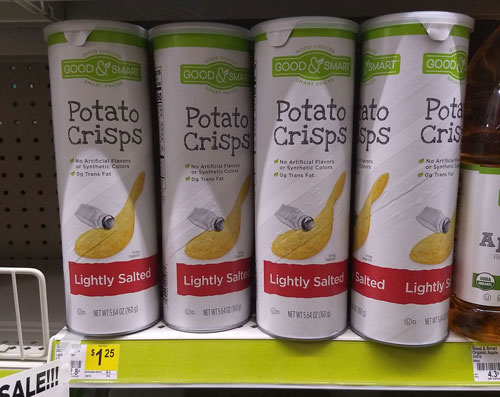 We particularly recommend the Good & Smart macaroni and cheese, made with organic pasta and no artificial colors or flavors, for just $1.25 a box.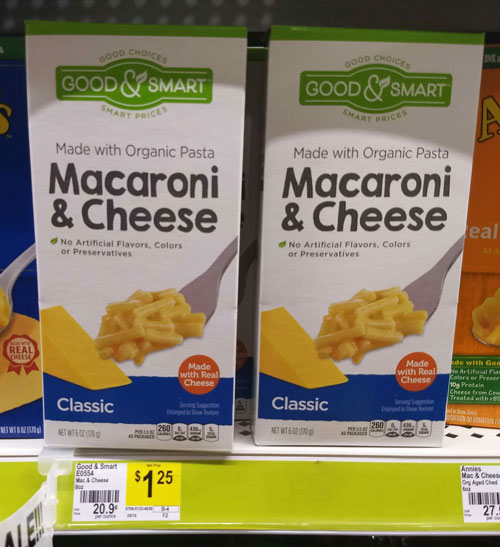 Because Dollar General operates in so many remote, rural communities, for many customers, DG stores may be the only place to buy these natural, organic products. We applaud DG for introducing these products into these stores to make healthy eating more accessible, convenient, and affordable.
#4 - Digital Coupons
Clipping coupons seems like a quaint practice of yesteryear. We used to get pages of money-saving coupons inside newspapers and mail inserts but not so much anymore.
Product manufacturers still want to get your eyes on their product and offer you incentives to give them a try. You can find many of these offers in the form of digital coupons in retailers' websites and mobile apps, and Dollar General has one of the best platforms we've found.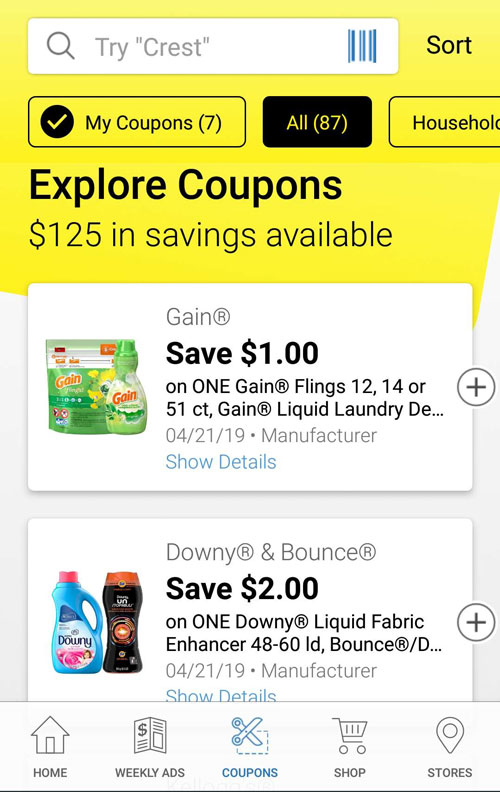 When you download the Dollar General mobile app, inside you will find long lists of categorized digital coupons that you can easily claim by tapping the plus-sign icon next to the offer. Just scroll through the list and tap on any and all products you want to try or were planning to buy anyway. There are always great offers on a wide range of products from both name brands and money-saving store brands alike.
When you check out, as the cashier rings up your items, simply enter your phone number linked to your account into the point-of-sale and your coupons will be automatically applied to your balance. It's really that easy! Just a few taps in the mobile app can save you several dollars on your bill.
#5 - $5 Off $25 Coupons
We wrote earlier about the weekly $5 off $25 coupon on Saturdays that can help you save on your weekend shopping trips. You can find the coupon in the DG mobile app and on the DG website, or at the bottom of receipts you get during the week. If you're a bargain hunter, check for the coupons regularly because sometimes they sweeten the deal by extending the offer thru Sunday or upping the deal to $5 off just $20. Combined with the other great ways to save money at DG, this is another easy way to help you keep another $5 in your pocket.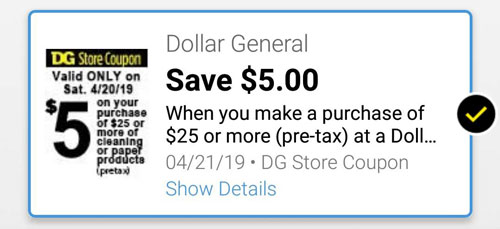 Do you have any other great tips on how to save money at Dollar General? Let us know on Twitter so we can add them to this post!
https://cheapsimpleliving.com/post/save-money-dollar-general
Love shopping for bargains at your local Dollar General store? Check out our top 5 ways you can stretch your dollar even further when stocking up at DG.
Cheap Simple Living