Over the past few years, we've seen a lot of changes in payment technology, including new ways to pay at the checkout counter with your mobile phone. Walmart has created its own convenient mobile payment feature for checking out in their stores called Walmart Pay. The feature's simple concept of using the credit card saved in your Walmart account to pay in-store has a lot of perks for those of us who frequently stock up at Walmart.
Setting Up Walmart Pay on Your Smartphone
First of all, how do you get set up to use Walmart Pay? Inside the Walmart mobile app, which you probably already have on your phone for its useful price-checking and item-finding capabilities, there is a Walmart Pay menu item in the sidebar. You will have to sign in with your regular Walmart.com account (if you aren't signed in already), and then you will see a screen with a brief overview of the highlights of Walmart Pay – fast, touch-free checkout and saved receipts in your Walmart account.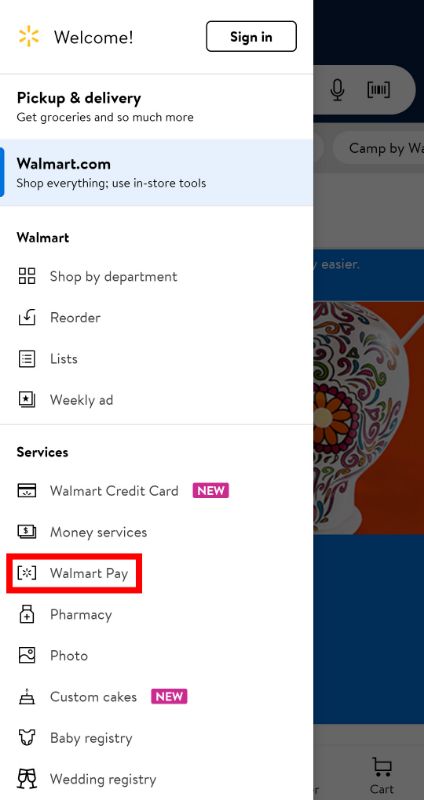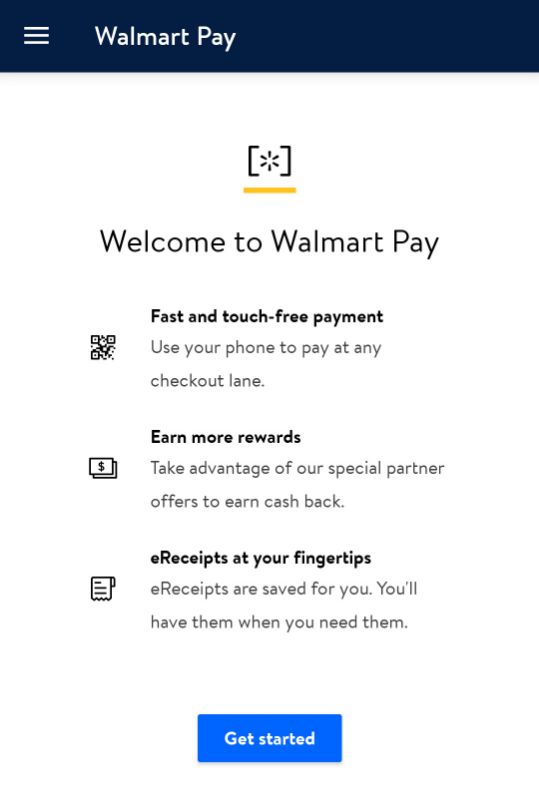 Click "Get Started" and the app will ask you to enter your credit or debit card number (or gift card number, which we will get back to later). After doing so, you will be ready to pay at the Walmart checkout counter using only your phone!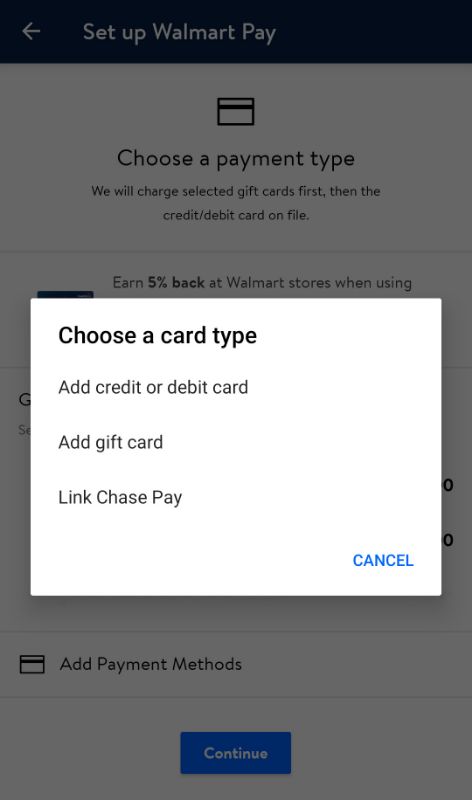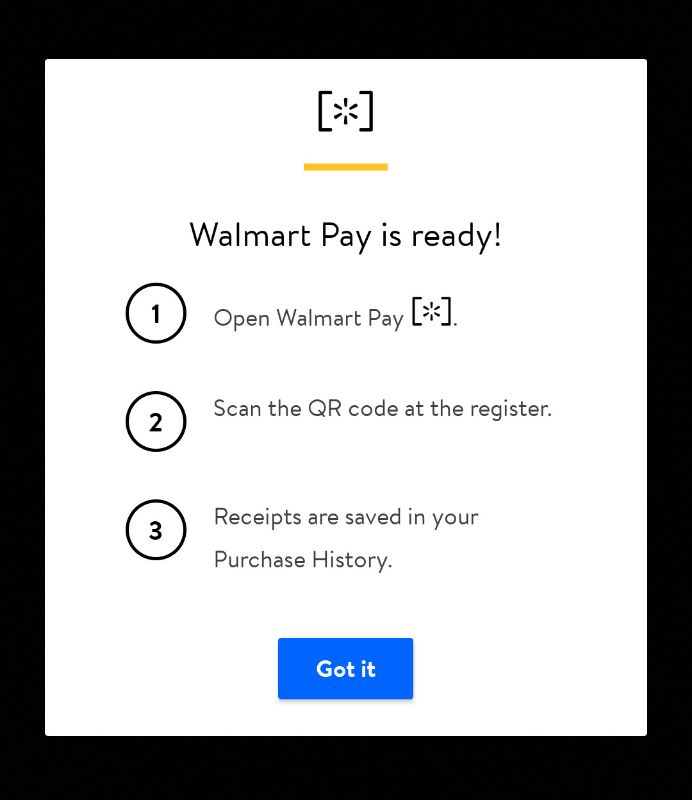 Using Walmart Pay at Checkout
Checking out using Walmart Pay is the same as checking out normally except for the payment step. Using either self-checkout or with a cashier, scan and weigh all your items as usual. When it comes time to pay, you will have the choice on the screen to pay using cash, credit/debit, gift card, or Walmart Pay. The Walmart Pay option is actually a QR code and doesn't even need to be pressed on the screen.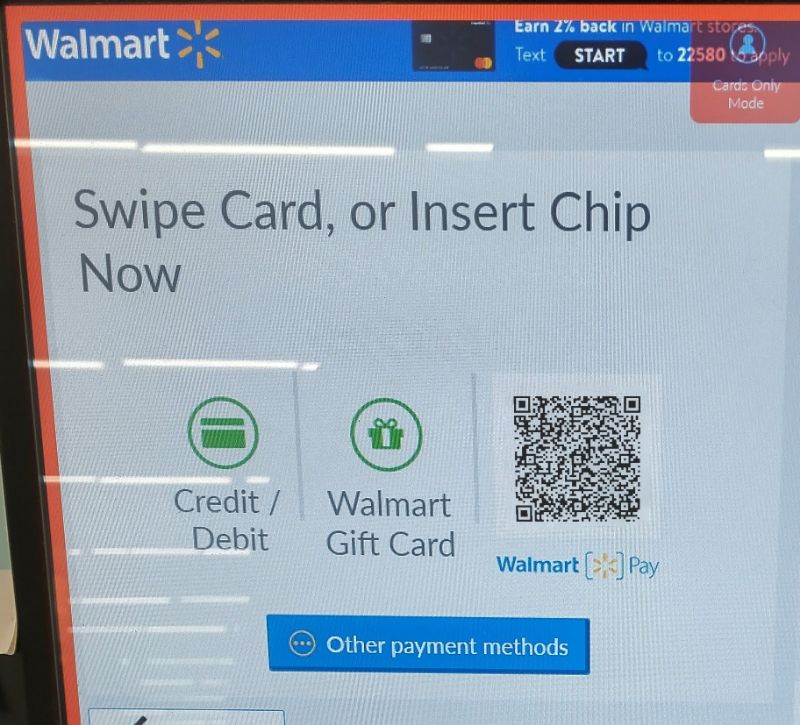 Simply take out your phone, tap Walmart Pay in the menu, and point your camera at the QR code on the checkout screen. Almost instantaneously, the app will detect the QR code and confirm that your payment is complete. That's all there is to it! The app will also show you a receipt of your purchases, in case you need to show it to an associate on the way out.
Benefits of Using Walmart Pay
Some of the benefits of Walmart Pay are obvious, but here are some you may not have thought of.
Never Worry About Losing Receipts for Returns
The biggest perk for using Walmart Pay is that your in-store purchases get saved in your account just like your online ones, helping you keep close track of the things you buy in-store. If you've checked out with Walmart Pay in the past, you can visit your account's Purchase History in the app or online and see your in-store purchases listed among your online orders. So if you ever need to make a return, you don't have to worry about having lost your paper receipt. Just pull up your in-store transaction in the app. There is even a convenient "Start a return" button right at the top.
Help Your Kids Pay for Groceries and Essentials
If you want to help your grown college-age children pay for living essentials like food and medicine, you can enter your credit card number into their Walmart Pay settings. It's like giving them a refillable Walmart gift card, but you don't have to worry about keeping up the balance. Plus you can use the Purchase History feature to make sure they are only buying the things they need.
Easily Keep Track of Gift Cards
When you receive a gift card, it can be difficult to remember to bring it when you go to the store (especially to a store you visit frequently like Walmart) and to avoid sticking it in a drawer and forgetting about it entirely. If you use Walmart Pay, you can immediately type the gift card number into your payment settings and set it as the preferred payment option for the next time you check out.
Great for Germophobes
Checking out at the store is one of the least sanitary things we do in our everyday lives. We typically either pay with cash, which has been handled by countless individuals, or we pay by card and must touch buttons on the credit card terminals that are rarely cleaned for fear of damaging the electronics. But with Walmart Pay, you don't have to do either. In fact, you don't even have to touch the checkout touch screen to select Walmart Pay as your payment method, because instead of a button you have to press, the Walmart Pay option is already the QR code you need to scan. As soon as you scan the code with your phone, the checkout station automatically knows via Internet magic that your payment is complete. Walmart Pay is as contactless a checkout solution as you'll ever find.
https://cheapsimpleliving.com/post/walmart-pay-contactless-checkout-at-walmart
Walmart Pay offers a fast, contactless way to checkout in-store using credit cards saved in your online Walmart account. Never worry about forgetting your wallet or losing a receipt ever again!
Cheap Simple Living