Have you ever had trouble finding something in Walmart? With most stores comprising over 179,000 square feet and each one laid out slightly differently, it's easy to waste a lot of time tracking down some obscure item on your list.
We were once in the market for a suction cup soap dish for the shower. We found this Mainstays one online for a great price and the website said it was in stock at our local Walmart store.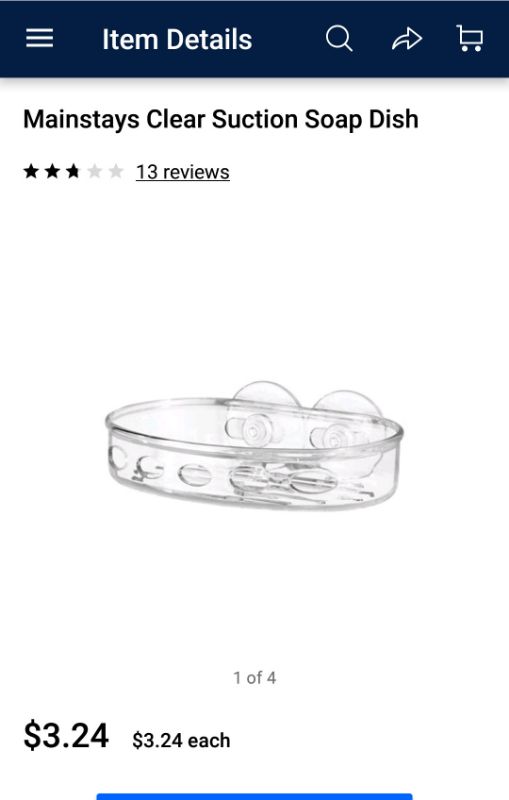 We tried looking in the bath section with the towels, shower curtains, and other bathroom accessories, but we only found decorative countertop soap dishes. We left the store figuring they were sold out or the website was wrong and they were not carried in-store. Later we checked the health and beauty section next to the bars of soap, but no luck there either.
It eventually dawned on us to check the Walmart mobile app, which we reviewed earlier for its awesome price checker functionality.
Having already selected our preferred store location, we searched for "soap dish" in the top search bar. The app automatically showed us on a map of the store where the results were located. As you can see, there are soap dish products scattered all over the store in different sections, so it's easy to see why many shoppers could use a convenient item finder like this. We found our preferred product in the search results and it said it was on Aisle M8. Obviously that aisle number information is pretty useless by itself (where is section M?), but if you click on the "Aisle M8" label, it will open a map of your store with a map marker on the precise location of the product – in our case, right there in the back corner between Auto and Paint.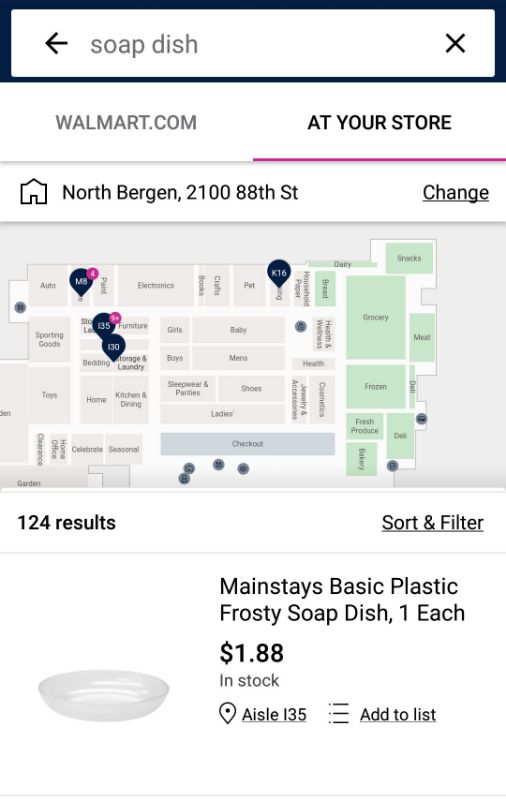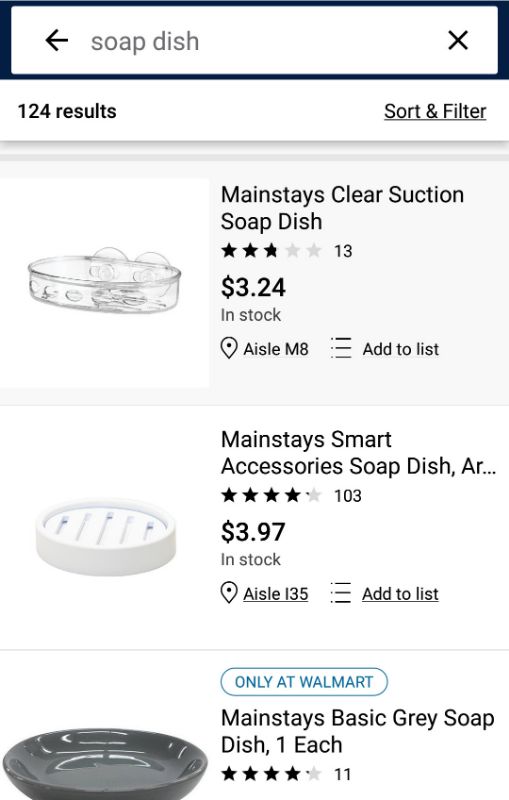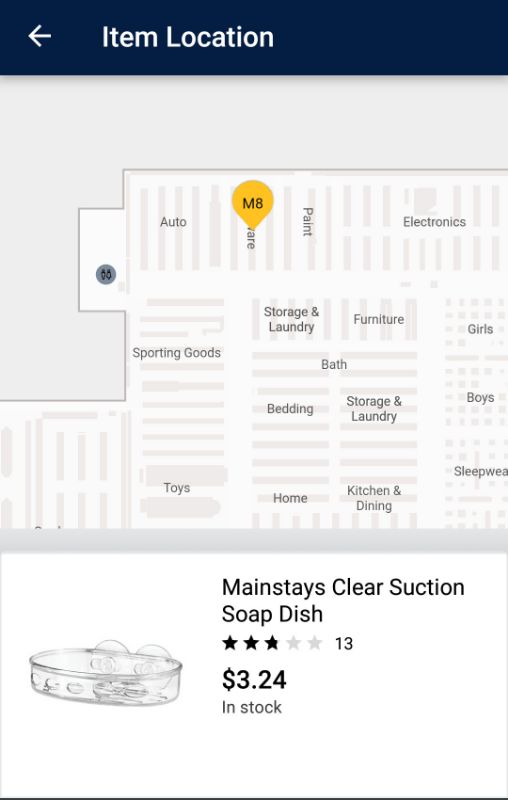 We were able to walk straight to the hardware section, which had an aisle full of plumbing equipment, and find our soap dish right on the shelf.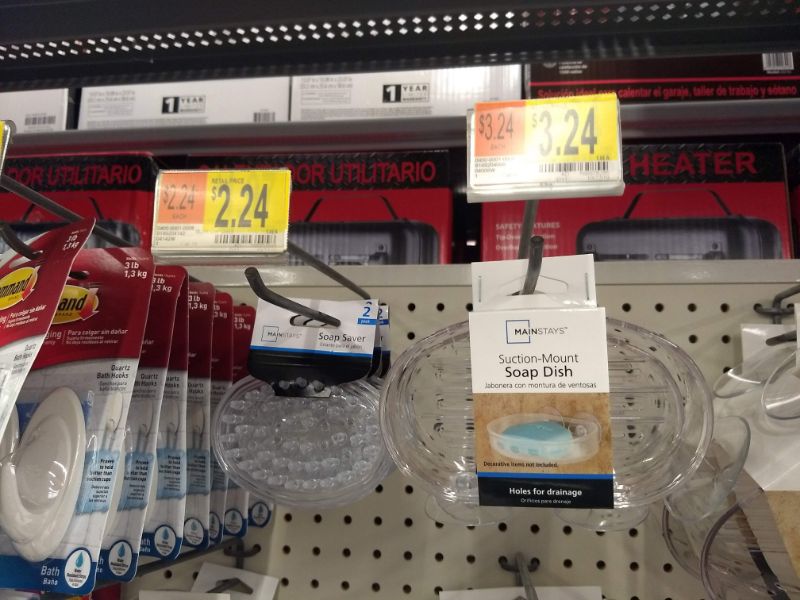 If you're shopping and need the app to be quick, you can even use voice search! Tap the search bar, and the "Voice Search" button with a microphone icon will appear below. Tap the microphone, and you can just tell the app what you're looking for. Make sure you're connected to Walmart's free wifi for a fast response.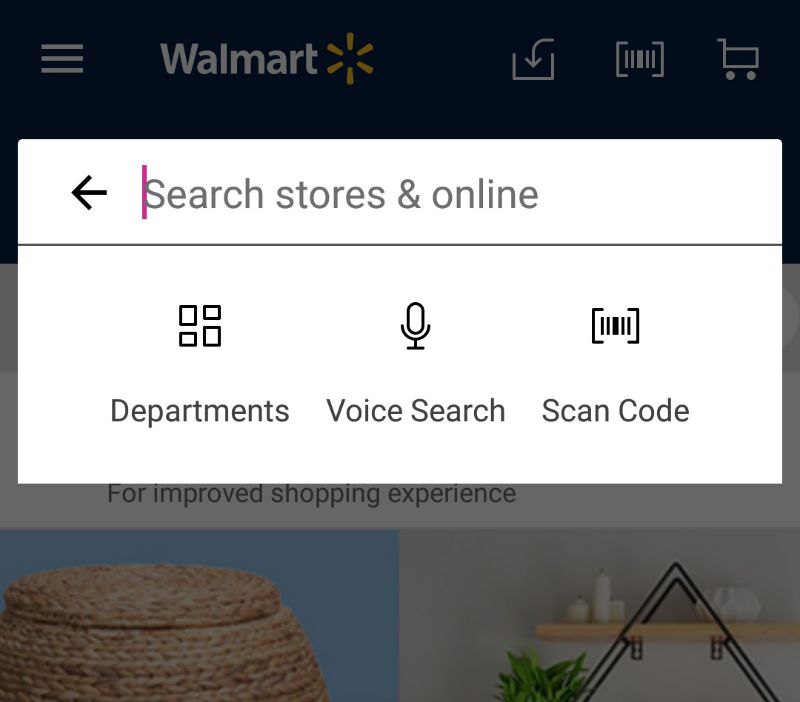 It doesn't get much more convenient than Walmart's mobile app item finder. You don't even need to flag down an associate to help lead you to the product you're looking for. Just take out your phone, type or speak what you need, peruse the list of options, and follow the map. Next time you're despondently searching for something in the vast expanse of your local Walmart, give it a try!
https://cheapsimpleliving.com/post/walmart-mobile-app-item-finder
Have you ever wasted a bunch of time trying to find something in Walmart? If you have the Walmart mobile app, you can see your item on a map of the store and walk right to it!
Cheap Simple Living