For those of us who try to buy American-made products as much as possible, one area where it can be hard to do so is toys. In fact, according to CNNMoney, almost 90% of toys sold in the US are made in China. There are probably two main reasons why toys are so often made in China and other low-wage countries. First, consumers are looking to spend as little as possible on toys that their children will lose interest in after just a short time. Second, consumers are likely tolerant of cheaply made toys because they're expected to be inevitably lost or broken no matter what. With both of these market forces at play, it can be difficult for American companies to compete on price with foreign-made products.
But some toy companies have continued to make their products in the United States, and we wanted to highlight one such company that we've seen featured prominently at Walmart in recent months – American Plastic Toys. Started in Birmingham, Michigan, in 1962, American Plastic Toys today operates five factories across Michigan and Mississippi, producing a product line of 125 different toys ranging from small beach toys and vehicles all the way up to play kitchen sets, tool workbenches, and ride-ons. The company sources all its plastics and colorants within the United States and only imports 4% of its materials. The company tests all its toys for safety and uses FDA-approved materials.
You can find American Plastic Toys at several national retailers like Dollar General, Family Dollar, Kroger, and Walgreens, but we've seen American Plastic Toys products displayed most regularly at Walmart, likely due to Walmart's Made in the USA initiative to promote products made, assembled, and grown in the USA.
This past summer, we shared a photo of shelves full of plastic vehicles – like dump trucks, planes, helicopters, monster trucks, boats, and motorcycles – priced at just $3.97 apiece, as well as beach toys like plastic shovels, pales, and sandcastle molds for just $2.00, all made by American Plastic Toys.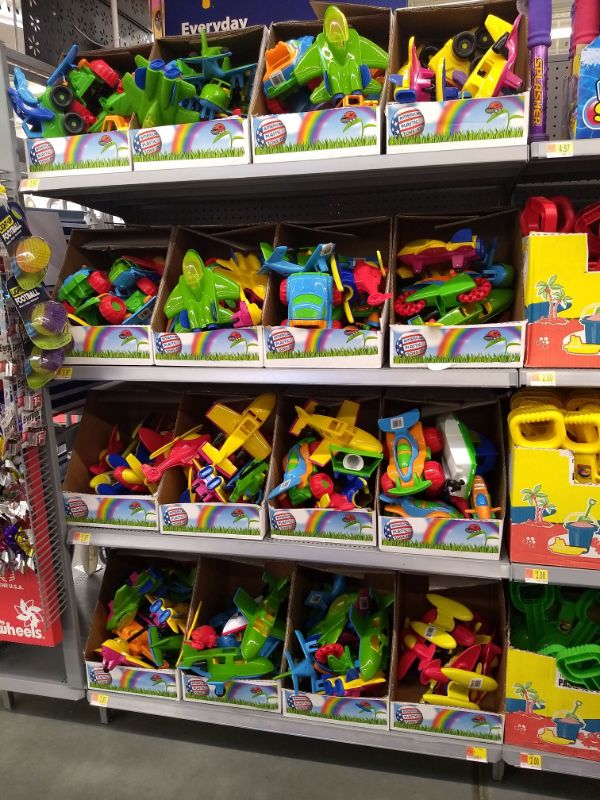 With summer now over and Christmas fast approaching, we are now seeing Walmart bring out displays full of toys that they hope will attract shoppers this holiday season. We recently saw these giant vehicles, including dump trucks, fire trucks, tow trucks, and monster trucks, priced at just $10.00 each! 🤑 That's an awesome deal, made even better knowing that buying one of these gigantic vehicles helps support American workers earning American wages and benefits.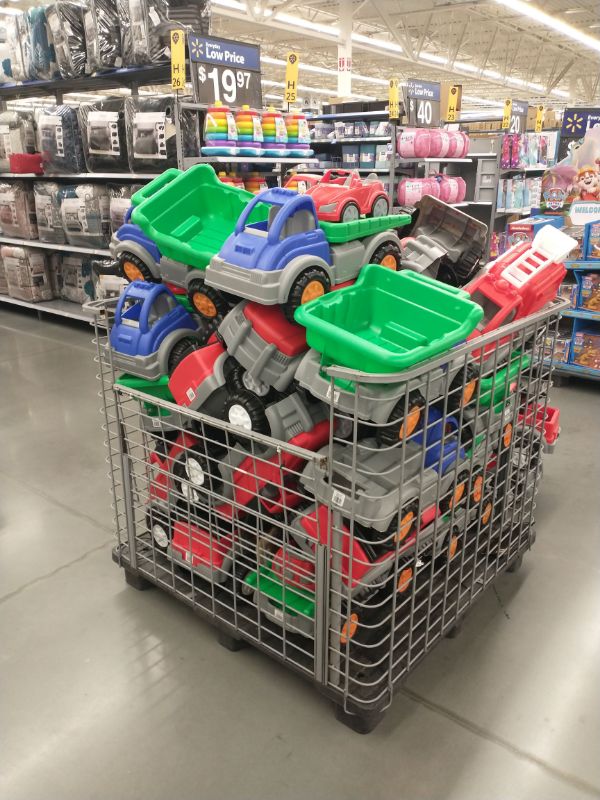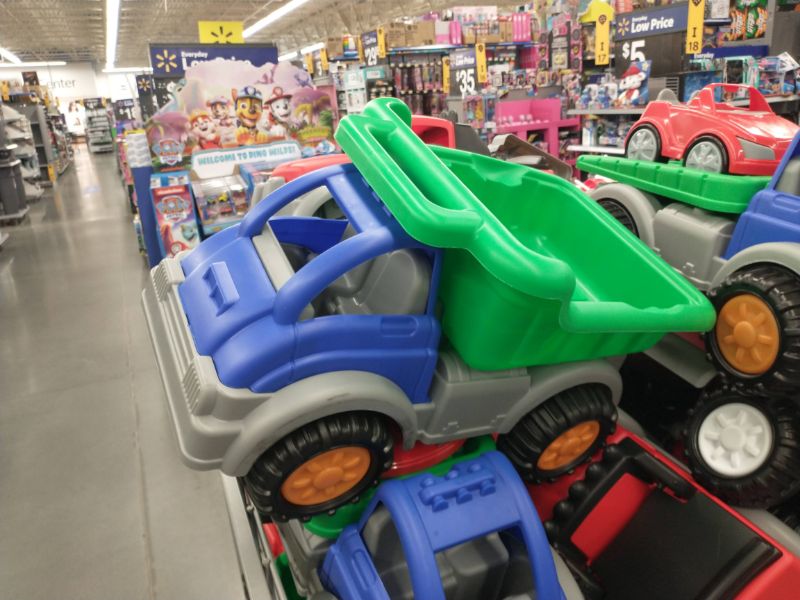 You can search for American Plastic Toys on Walmart's website and see the wide variety of products the company offers, like large play sets, dollhouses, tricycles, chairs, and all sorts of things your kids can play with outdoors. You can order them online or keep checking the toy aisles at your local Walmart this December.
John Gessert, the CEO of American Plastic Toys, says that one of the main ways the company stays competitive is by focusing on bulk orders for large retailers like Walmart to keep production costs as low as possible. But partnering with American Plastic Toys works out for Walmart and other retailers as well. Because American Plastic Toys produces domestically, they can restructure their product offerings to suit consumer preferences more quickly than suppliers that must wait for toys to ship overseas.
So while you're shopping for toys for your kids this Christmas season, keep an eye out for toys stamped with the circular American Plastic Toys logo. Their toys are affordable, safe, made by American workers according to American safety and environmental standards, conveniently sold at retailers like Walmart, and, most importantly, fun – what more could you ask for? 🎅
Read more: https://money.cnn.com/2017/03/06/smallbusiness/manufacturing-toys-american-plastic-toys/index.html
https://cheapsimpleliving.com/post/american-plastic-toys
It can be hard to find toys that are Made in the USA, but American Plastic Toys offers a wide range of American-made toys ranging from small toy vehicles up to dollhouses and tricycles.
Cheap Simple Living