Have you ever walked past the $1 steaks in the freezer at Dollar Tree and wondered, can they be any good?
The $1 ribeye has been one of Dollar Tree's favorite doorbuster deals since it was first unveiled several years ago. Even as Dollar Tree has continued to expand its selections of frozen and refrigerated groceries, the $1 steak has remained one of the store's favorite selling points. You can often find posters and banners with "$1 Ribeye Steak!" donning Dollar Tree's windows. And it's easy to understand why — after all, the deal seems almost too good to be true! 🤑
How does the price compare to ribeye steak that you would buy by the pound at the supermarket? Dollar Tree's steaks, costing just $1 for 3.5 ounces, come in at $4.57 per pound. Ribeye steak at Walmart, for example, costs on average $11.97 per pound. Less than half the price! 🤯 Granted, Dollar Tree's steaks are prepackaged, frozen, and contain a few preservatives, but that's a huge price difference!
Before you assume the worst about these cuts of meat, know that they are made from US beef and packaged by the company Stampede, which also supplies other supermarkets.
Dollar Tree's steaks come pre-tenderized, marinating in a bromelain-based brine within the packaging. And because these steaks are so thin, measuring approximately just a quarter inch in height, they thaw quite quickly under warm water.
We threw one of these steaks on the stove to try it out, and within just a few minutes, it was ready to eat. We heated up some Dollar Tree frozen cauliflower and broccoli to complete our $2 Dollar Tree-inspired meal! 😋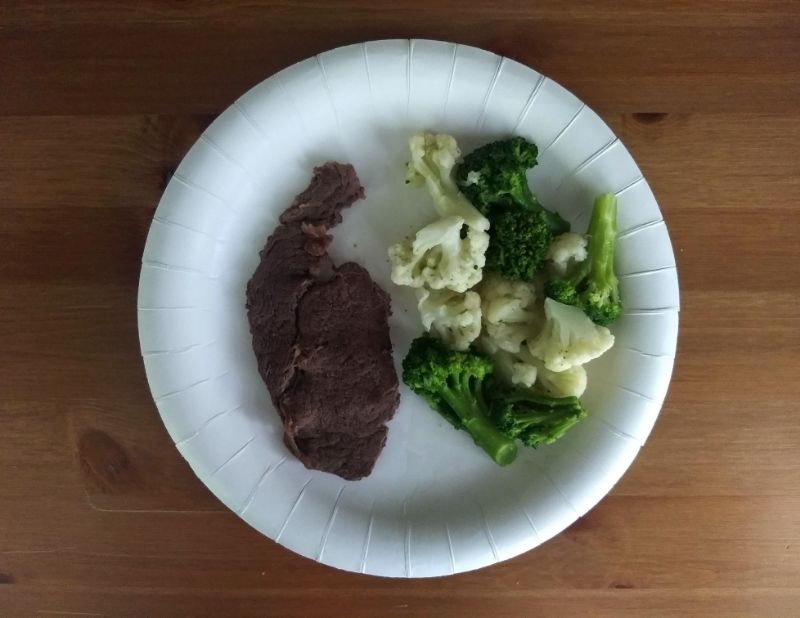 When it comes to steak, what matters most is the taste. And honestly, our steak tasted better than we expected. The steak's packaged marinade gives the meat a surprisingly savory flavor we didn't expect. But because the steak is so thin, much of the steak's juices got cooked out of the meat, making the texture a little tough.
Of course the biggest downside to Dollar Tree's steaks is the size. Although it's a bargain, a 3.5-oz steak isn't going to fill anyone up. It's hard to imagine anyone grilling up one of these tiny bad boys and sitting down with their steak knife and baked potato to a hearty steak dinner. You could cook a few at a time, but at that point, you'd be better off buying some cheap cuts of meat at the supermarket.
There are better ways to make use of these thinly sliced steaks, however. Cut into strips or small pieces, they make quick, easy additions to chef salads, stir fries, omelets, scrambled eggs, cheese steaks, and homemade pizzas. Keep a few in your freezer for when you want to add a little extra protein to your meal!
https://cheapsimpleliving.com/post/dollar-tree-ribeye-steak
Have you been curious about the $1 ribeye steaks at Dollar Tree? Can a dollar store steak be any good? Read our review to find out!
Cheap Simple Living