When most people hear "Girl Scouts," their next thought is usually about their signature cookies. Everyone, young and old, seems to know most of the names of the different varieties by heart and look forward to their annual sale.
It makes us wonder, since these cookies are so popular, why aren't they available outside that short window in the spring when Girl Scouts go door-to-door and set up their tables outside grocery stores?
After all, folks eat cookies all year long, right?
Maybe the marketing folks at the Girl Scouts organization think limiting the sale to once per year helps drive up demand and sell more cookies. It seems to us, however, that putting the cookies on store shelves year-round, with a portion of the sales going to the organization (similar to General Mills' Box Tops for Education) would raise money for the group and satisfy the cravings of their many fans year-round.
Until that day comes, two of our favorite stores have stepped up to fill the void.
Dollar General and Family Dollar both sell their own private-labeled versions of three of the Girl Scouts' most popular cookies – chocolate/mint, chocolate/peanut butter, and caramel coconut varieties. Family Dollar even color-codes their boxes the same as the Girl Scout varieties, with green, red, and purple, so your sweet tooth makes a quick connection!
These cookies taste very close to the originals, as their ingredients lists are pretty similar. In fact, the imitations may be even better. For example, both Dollar General's "Fudge Mint" and Family Dollar's "Fudge Covered Mint" cookies do not contain any caramel color, while the originals do.

And priced at just about $1.50 these knockoffs are a great deal! Even better, Dollar General often runs sales on their store-brand snacks, which includes these cookies.
If you see some in the store, act fast, as these cookies are often sold out, particularly the coconut ones (in our experience). Maybe someday they'll get around to making versions of the other varieties too, to keep all the fans happy year-round. (We're holding out for the peanut butter ones.)
So be sure to support the Girl Scouts during their sale, but the next time someone says, "I wish we could get some Girl Scout cookies right now" during the off season, you know where to go to make their day!
Update #1: Dollar Tree Enters the Game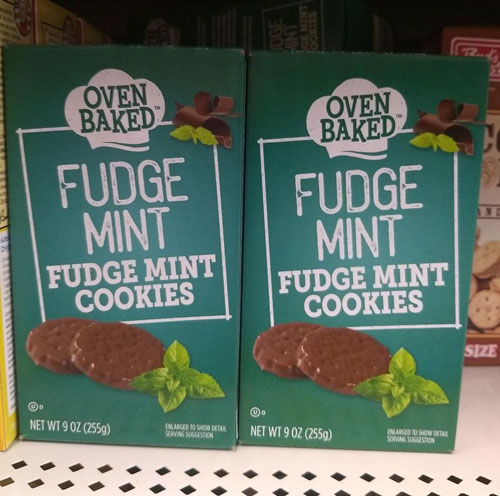 Since we published this article, we have since noticed that Dollar Tree now offers Fudge Mint cookies, and their box is the same 9 oz. size as the other guys. So at just $1 per box, they win the prize. Next time you're at Dollar Tree, check them out!
Update #2: Now at Walmart!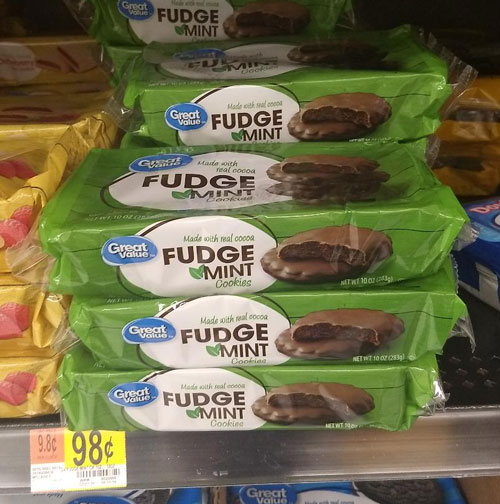 We have since noticed that Walmart now offers their own Great Value branded Fudge Mint, Fudge Covered Peanut Butter, Caramel Coconut, and Peanut Butter Sandwich cookies, priced at 98 cents, 98 cents, $1.36, and $1.68 respectively at our local store, the lowest prices around. And they taste great! Check the links above to see if Walmart has them in stock at your local store!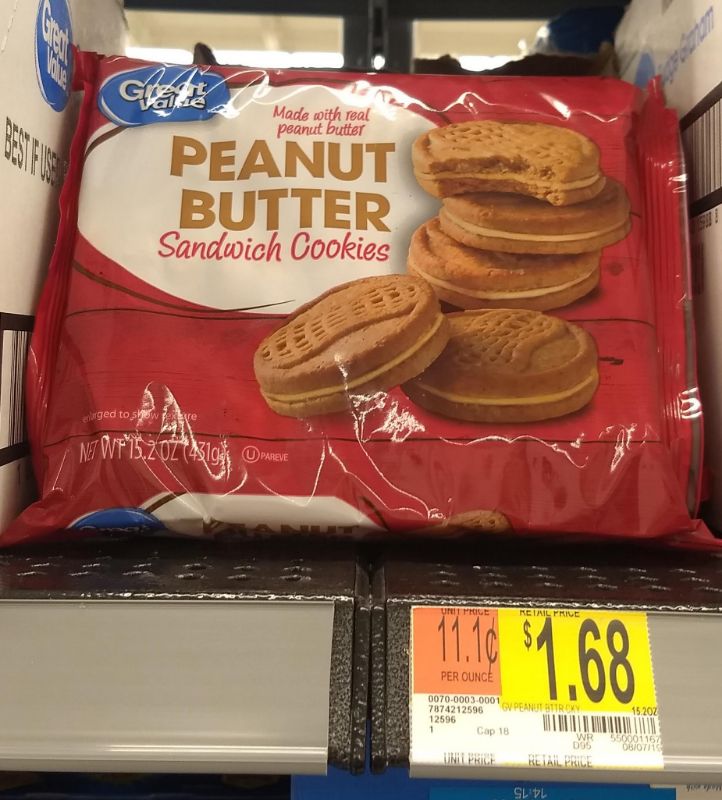 https://cheapsimpleliving.com/post/girl-scout-cookies-year-round
Do you crave Girl Scout cookies all year long? These two stores make some awesome imitations that you can find on the shelf anytime for under $2.
Cheap Simple Living