There are many streaming services clamoring for our attention these days. Among the host of free apps that would appeal to us cost-conscious cord-cutters, it's hard to know which ones are worth our time. After all, many of us already subscribe to premium services like Netflix or Amazon Prime – could there be any free apps that actually offer something more?
There is one free streaming app that we think rises above the rest – Pluto TV.
Pluto TV is a free streaming app that's been around since 2014 and originally just conglomerated free content that could be found on the Web into one central platform. In 2019, however, the service was purchased by ViacomCBS, who has greatly improved the service and infused Pluto TV with content from its family of networks, including channels like Nickelodeon, TV Land, CMT, Paramount, and MTV.
The service today features over 250 channels with 24/7 streams of curated content. The app also includes an On Demand section with a wide selection of movies and TV shows. Don't expect to find the latest blockbusters, but you can find an impressive selection of older movies that you may not find on the big streaming services.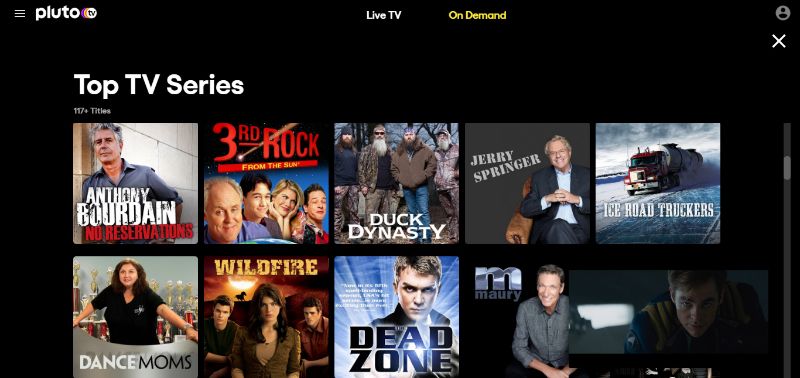 The Pluto TV app is great for cord-cutters who miss the experience of cable television but don't want to pay for it. There is something nostalgic about being able to spend an afternoon watching a TV marathon or at least not having to choose a show to put on every single time you want to turn off your brain and relax. We all know the feeling of scrolling through Netflix just trying to decide what to watch. With the curated content on Pluto TV, just turn on your favorite channel, kick back, and let the shows come to you, all for free.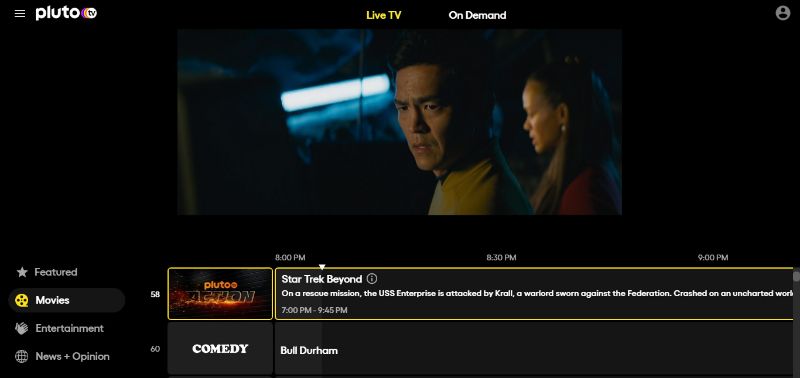 Pluto TV can be installed on pretty much any streaming device – Roku, Apple TV, Amazon Fire TV, Apple and Android devices, plus several makes of Smart TVs. In fact, if you have a Vizio TV, you may already have an app called WatchFree that's just a rebranded version of Pluto TV. You can also get the same streaming experience on Pluto TV's website at https://pluto.tv/live-tv, in case you'd like to give the service a preview before you install it. Pluto TV's intuitive user interface that mimics the guide on digital cable/satellite is the same on any device.
What shows are on Pluto TV?
Pluto TV's 250 channels are spread across the following categories: Movies, Entertainment, News + Opinion, Binge Watch, Comedy, Sports, Explore, Life + Style, Tech + Geek, Kids, Latino, and Music. There is an assortment of about 20 channels under each category.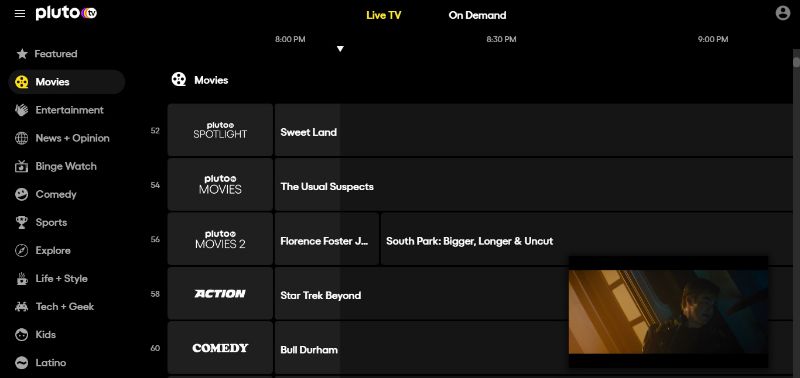 Some groups of channels have content coming entirely from one of ViacomCBS's cable channels. For example, if you like comedy, check out the Comedy Central Pluto TV, Comedy Central Stand-Up, Tosh.0, and Crank Yankers channels that all play 24/7 streams of some of Comedy Central's most popular shows and specials. But if those comedy channels don't have what you want, don't worry, there are in fact 15 total comedy channels you can browse through, including TV Land Sitcoms, Stand Up TV, and AFV TV, which plays episodes of America's Funniest Home Videos all day long.
With hundreds of channels to choose from, there's something on Pluto TV to suit virtually every taste. Here are some of our personal favorite finds:
Nick Pluto TV, Nick Jr. Pluto TV, and Nick Games
If you grew up in the 90s like we did and pine for the good old days of Rocko's Modern Life and Legends of the Hidden Temple, then you will love these Pluto TV channels as much as we do. Nickelodeon is one of ViacomCBS's channels, so Pluto TV gets to air some of these shows that don't get shown too often on cable these days. On Nick Pluto TV, you can often find episodes of Hey Arnold, Rocko's Modern Life, Rugrats, and SpongeBob. Nick Games plays 90s-era game shows like Figure It Out, Legends of the Hidden Temple, Keep It Spotless, and Guts. And on Nick Jr. Pluto TV, you can find episodes of older Nick Jr. shows like Blue's Clues (with Steve!). These Nick channels on Pluto TV are helping us share the shows we loved when we were young with our own kids, which is a fun experience.
Adventure TV and Voyager Documentaries
Under the Explore category are lots of cable-style documentary channels about history, cars, travel, and nature. One of our favorites is Adventure TV, which often airs some of our favorite food/travel shows like Man vs. Food, Bizarre Foods, and Anthony Bourdain: No Reservations. It's also nice to put on the Voyager Documentaries channel for a relaxing nature documentary.
Slow TV, 4K TV, and Naturescape
Speaking of relaxing, if you happen to be a fan of those 7-hour "Slow TV" videos of train rides through Norway, Pluto TV airs them 24/7 on the Slow TV channel! If you'd rather watch soothing nature-based screensavers, 4K TV and Naturescape play relaxing scenic videos of waterfalls and rainforests all day long.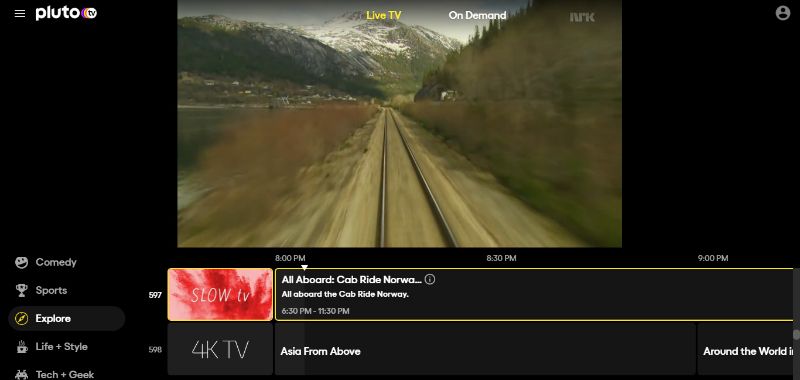 Our tastes may be a little weird 😅, but if you click around Pluto TV for a bit, you're sure to find something you love!
How is Pluto TV free?
By being free, Pluto TV has amassed over 22 million active users as of 2020. This vast user base makes Pluto TV a valuable asset to its parent company in two main ways. The first way is obvious – advertising. When you watch TV on Pluto TV, it feels a lot like watching regular cable because of the periodic commercial breaks. By bringing Pluto TV into their fold, ViacomCBS can offer budget-tier ad space on Pluto TV to advertisers for whom ad buys on cable or the CBS Evening News are out of their price range.
The second way Pluto TV serves its parent company is as a marketing channel for ViacomCBS's more profitable media properties. When you install the Pluto TV app on a notification-enabled device like your smartphone, you'll start receiving occasional push notifications from Pluto TV. Many of these notifications are updates about current events and news stories that invite you to "Watch live coverage on CBSN (CH 236)."


News media is a highly competitive and lucrative industry. Pluto TV gives CBS News a direct line of marketing communication to millions of viewers, so the parent company has a big incentive to popularize Pluto TV and freely distribute it to as many users as possible.
Is Pluto TV a viable replacement for cable?
The Pluto TV app resembles digital cable and satellite so closely that it begs the question – can I ditch my cable bill and just use Pluto TV? It's important to remember what Pluto TV is and what it isn't. You won't find the latest episodes of your favorite cable TV shows on Pluto TV. If you're looking for specific shows, you'll probably be disappointed. But if you're a cord-cutter who's less concerned with finding specific shows and more interested in replicating that classic cable experience you grew up with for a total fee of zero dollars per month, then you'll probably grow to love Pluto TV as much as we have.
Pluto TV is completely free so there's no cost to trying it. Simply download the app on whatever device you have or just get the full experience at https://pluto.tv/live-tv!
https://cheapsimpleliving.com/post/why-we-love-pluto-tv
Pluto TV provides the laid-back, curated-content experience of cable without the hefty price tag. With over 250 channels to choose from, Pluto TV has something for everyone!
Cheap Simple Living